Key Features
Rapid Incident Response with Flow to Packet Analysis
Workflow Optimization
Resolving complex incidents can be challenging when different systems, vendors, devices and software are involved. LiveNX optimizes a rapid incident response workflow with Alert notification or predictive insight where the event is identified for remediation. Within LiveNX's Engineering Console, NetOps can easily isolate the issue with the visual analytics presented as topology, site or device views. LiveNX presents the time stamp from the Alert and problem isolation from the Flow data, should additional analysis be necessary the NetOps team can quickly cross launch Omnipeek for deep packet analysis for root cause.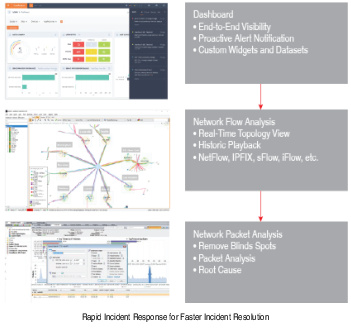 LiveWire Integration for Monitoring WAN Edge Segments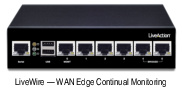 The LiveWire Network Monitoring Appliance is optimized for WAN edge applications to provide packet capture and integrated IPFIX Export solution with LiveNX. LiveWire captures and converts real-time packet data which feeds directly into the visualization engine of LiveNX.
Together, LiveWire and LiveNX bring new visual insights and analytics to traditionally "dark" environments such as application classification and performance management for SD-WAN deployments or traditioal legacy multi-vendor edge switch environments. LiveWire is extremely powerful for numerous use cases including branch wireless monitoring, point-of-sale transaction troubleshooting and VoIP troubleshooting.
LiveNA
LiveNA is an AIOps appliance that applies machine learning and heuristics to network datasets for advanced anomaly detection and predictive analytics for deeper network understanding. Together with LiveNX it provides "expert in the box" insights. This is accomplished by baselining and trending what is normal in a network, detecting anomalies, and correlating events for deeper network and application performance insights.
Application Visibility and Control (AVC) Reports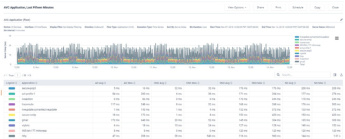 LiveNX presents advanced network performance data with Cisco Application Control and Visibility (AVC) data. With this network data, LiveNX reports on Top Applications Performance and AVC Applications with latency, jitter, packet loss and advanced performance indicators for: sites, devices, users and service provider environments.
Alerting Enhancements – Site Availability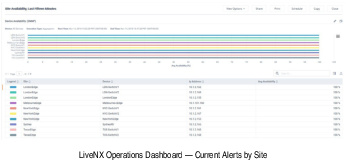 LiveNX — Site Availability Report
The LiveNX Operations Dashboard now supports site availability reports and custom widgets to illustrate an aggregated alerting view. NetOps teams can now visualize the Dashboard Alerts in one location by Site, Device, or Interface for easier access with summarized views.
Site availability is a helpful trend to observe. This is one where fluctuations should be very small, and KPIs controlled tightly. As a leading indicator of possible SLA violations, hazardous areas or poor deployment scenarios, Site Availability Reports are best integrated in a Service Level View and tie it together with Application performance and Network QoS Class reporting.
Cisco Integrations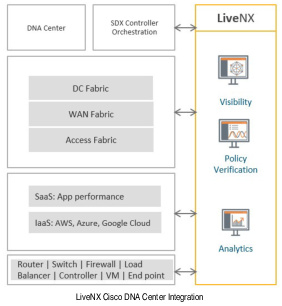 LiveNX offers the broadest suite of integration for Cisco environments. In LiveNX 8, Cisco DNA Center API integration is now available for General Availability, in addition to Cisco Identity Service Engine (ISE), vManage (SD-WAN), SD-Access and PxGrid connectors. These integrations provide rich datasets for LiveNX advanced visual analytics. Real-time Topology Flow Views and forensic playback and analysis are key NetOps elements.